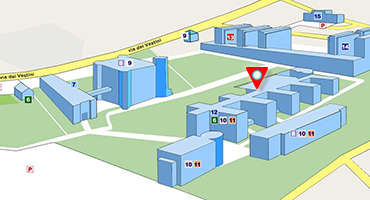 Address:

Via dei Vestini, 31
Campus Universitario Unich
Presso DiSPuTer
Edificio ex Lettere
Terzo Corridoio a sinistra - Piano 3°

66100 Chieti Scalo (CH)

Italy


Phone:

+39 08713556627
Miscellaneous Information:

  By plane, lines from Barcellona, Bergamo, Bruxelles, Bucarest, Catania, Dusseldorf, Francoforte, Cracovia, Londra, Malta, Milano, Torino, Varsavia (updated to 9/04/18) for the Abruzzo Airport, located on the Tiburtina Way, halfway between Chieti and Pescara.

  By train, lines Trenitalia o Sangritana. Departures from Pescara, Roma, Napoli, direct lines to the station Chieti Scalo (Piazzale Marconi); with departures from Milano, Bologna, Bari to the Pescara central station.

  By Car, from Milano, Bologna, Bari - A14 Highway; exit Pescara Ovest; from Roma - A25 Highway of the Parks - exit Chieti.